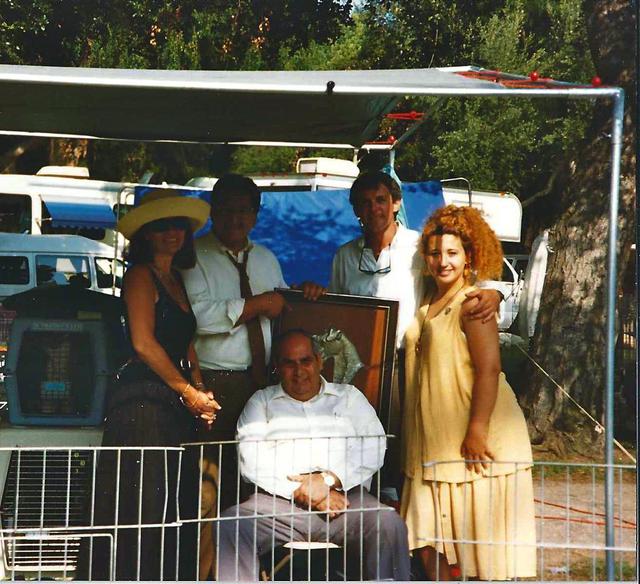 I am a professional dog groomer who went the traditional route of dog grooming school. It was not until I started my own business that I realized how woefully inadequate and poorly regulated they were, how little I truly learned about breed specific grooming. My first encounter with this was with Bichon Frises and PWDs and a client who needed someone who could keep them in show conditioning. Fortunately her breeder/handlers agreed to train me. It was an experience that gave me a huge distinction in the market of grooming. It was then I started going to dog shows and began noticing this type of grooming was nothing like what I had been taught but what ALL my clients expected- particularly upscale clients that paid top dollar for these AKC purebred registered dogs.
Then I acquired my own Wire Fox Terrier from the late, great Ric Chashoudian. When I bought the dog I asked if he could show me how to groom him- I had never even heard of hand plucked terriers at that time. He chuckled and said sure if I wanted to come down to Baton Rouge. I am based in NYC, so when I showed up at his front door to pick up my pup, prepared to stay there for a week - well let's just say he was impressed and took me on as a student. For the following 5 years I would follow him, at my own expense, to any show he would invite me to, picking up dog poo in order to watch and learn the art of trimming. That was 21 years ago and today I am the only professional dog groomer in NYC who specializes in wire haired terrier breeds. All because of Ric. Never did I show any dog of my own or groom for a dog show ( I am so busy busy I don't have the time!) but all of my clients want their dogs to look like the dogs they see there and buy from breeders they are told to seek out- not just from stores.
I can count on one hand the amount of breeders that take these dogs back for grooming- even if they lived close enough by. They have no trouble telling people that they can learn to do it themselves or it is not difficult to find someone who can do it for them. Well after 26 years in business I can tell you, they can't and they don't and I offer classes. I am sure you have seen some pathetic excuses for breed specific trims out there by the big box stores as well as so called grooming parlors. A person who spend 2-3000$ for a Wire Haired Terrier, Dacshund, PBGV, Brussels Griffon, deserves better than what is to offered the general public. My clients are ecstatic when they come across my website but I am getting close to retirement and finding young people to train is like finding hens teeth. I no longer take new clients but the ones I have replace their animals as time goes by and I am on my third dog(s) with many of them. At 62, time is running out.
My suggestion? Offer grooming AKC breed specific clinics! The general membership age of the Kennel clubs I belong to are in the 60's and up! Getting younger members is close to impossible. You want people to buy professionally bred dogs but offer no advice or referral for maintaining breed specific grooming and maintenance away from breeder list. You want breeder referrals but then what? I have clients who buy dogs from California, Maine Washington- all over! Those breeders have no local references for these people!
If and when there comes a day when pet grooming becomes a licensed activity( and it should be!), the AKC should want to be a supporter. As it stands, anyone can hang up a shingle or start a school and say their way is the right way but we all know it is not. I have loads of pamphlets from parent clubs that are like secrets passed on to the exclusive members. The public is clueless.
I have not missed a Westminster in 25 years or a Montgomery. I drag clients and prospective buyers of dogs with me. My familiarity with the handlers and breeders is priceless. I often shop for the puppies that long established clients are in the markets for and I can tell you that this is where the AKC has missed the mark. I never charge for this service but clients trust me and I have built a wonderful business out of gratitude. There are plenty of groomers who would jump at the chance to be AKC certified in breeds and want to be placed on a referral list. AKC should be part of this - in partnership with all the Pet Grooming conferences that encourage groomers to enhance their skills
Without the encouragement of the people who trained me outside of the school I went to, my life would be far different than it turned out to be and for that I am grateful. It really concerns me the AKC does not see what a huge part they can play in the education of maintaining a purebred dog once it is bought. There are so many breed rescues that if asked what is one reason of owner surrendered dogs, would tell you that people do not consider the cost of grooming an animal before they purchase it and that is the first thing to go when times get tough- the dog.
I have long believed there is a disconnect between what the pet owner needs to know and what AKC has the ability to provide outside the show ring. It is natural partnership so why not?